In The Beginning…Bert and Nora Coffman arrived in Troy, Montana.
The Coffman family homesteaded at a mountainous valley above Troy. During the early days, Bert operated at the D. Whitting Garage and City Garage.
As the Constable, Bert was involved in Lincoln County law enforcement. He operated a jitney service and started an automotive repair business in 1914, which became Coffman Motors.
The Coffman's were the proud parents of five children, including their daughter, Florence. Florence assisted her father in the family business while helping her mother keep the business records.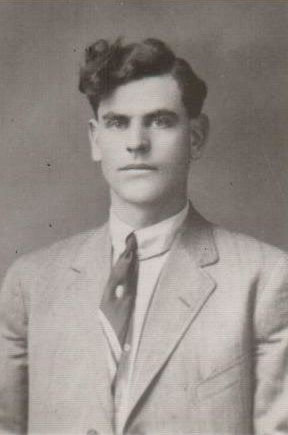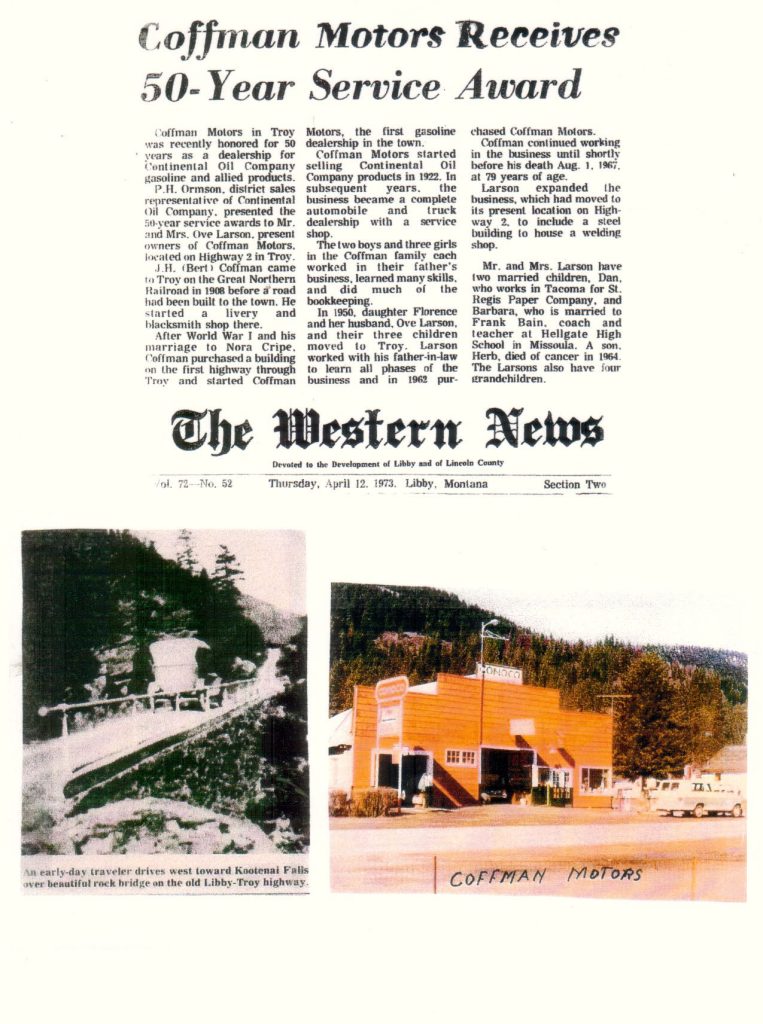 Meanwhile, Carl D. and Anna Larson moved to Libby, bringing the blacksmithing service.
The Larson's were involved with the early Christ Lutheran Church while Carl and Gunnar worked at the J. Neils Lumber Company. Carl and Anna enjoyed six children, including their son, Ove.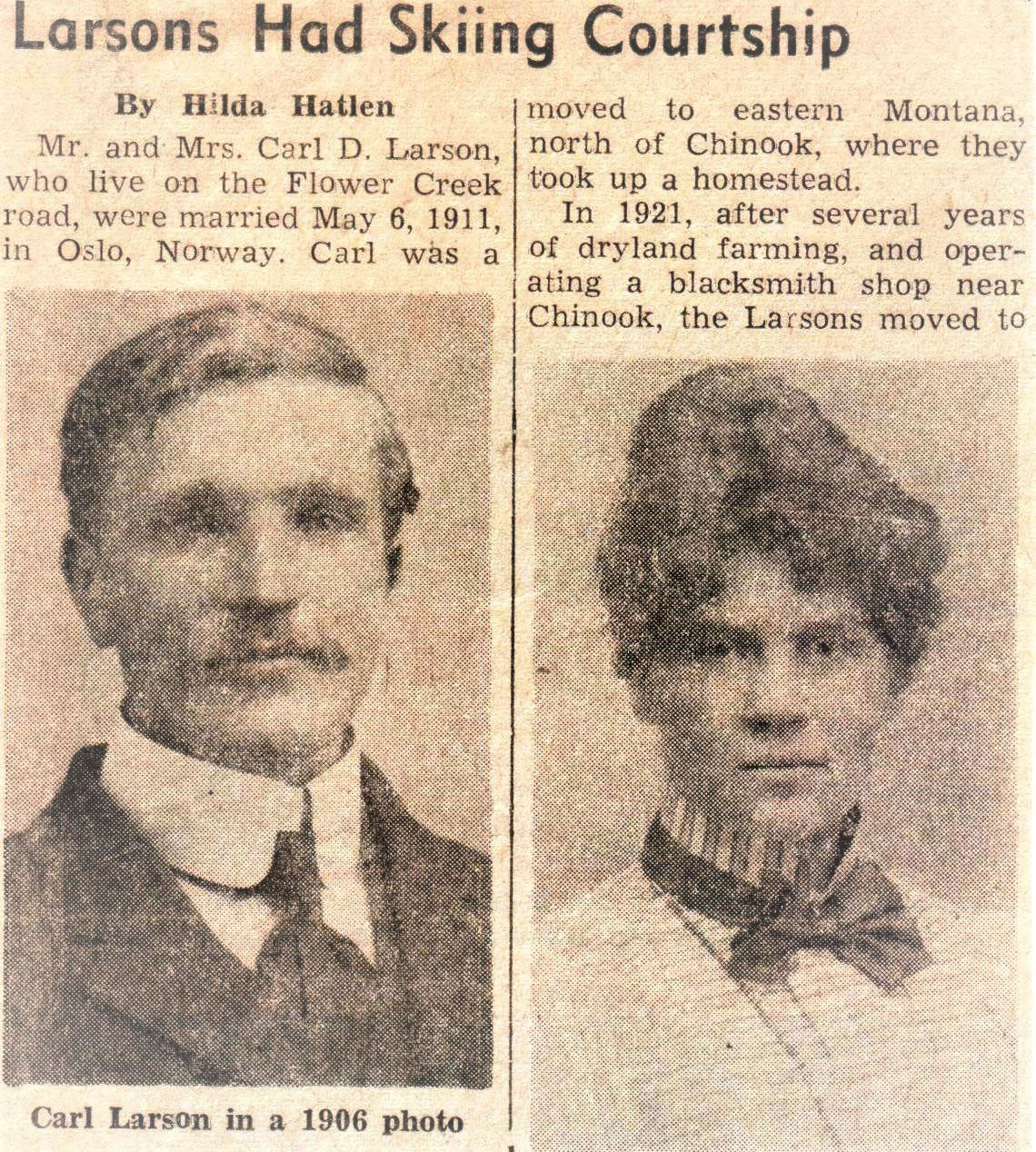 Following high school graduation, Ove attended college in Compton, California and Florence worked at Deaconess Hospital, Spokane, Washington in nurses training.
As fate would have it, Ove met Florence at a Junior Prom. Following an eighteen-month courtship, they married on January 1, 1941.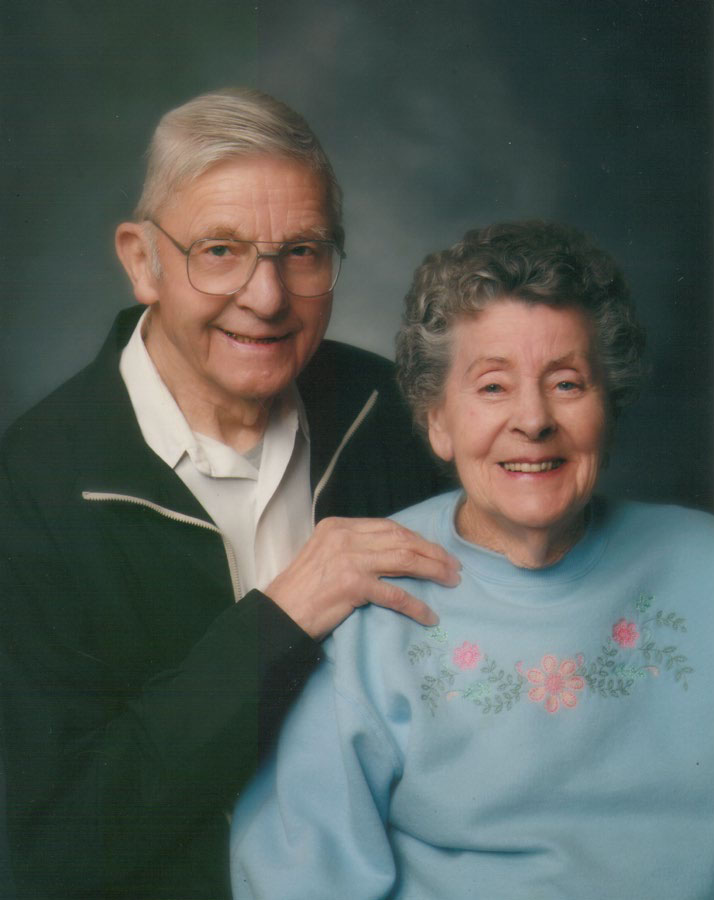 Ove served in the Army at Camp Wolters near Lake Mineral Wells, Texas.
The Larson's became the proud parents of a son born November 11, 1942, Daniel Ove Larson… then a daughter, Barb, and a son, Herb.
Bert fell ill and the Ove Larson family moved to Troy in 1950 to help out at the family business.
Soon, Ove and Florence bought Coffman Motors.
Men of vision, Ove and Dan added building materials to their line of products. Continuing family traditions, Ove volunteered as a firefighter and Florence provided nursing care in Lincoln County.
They celebrated seventy-two years of marriage!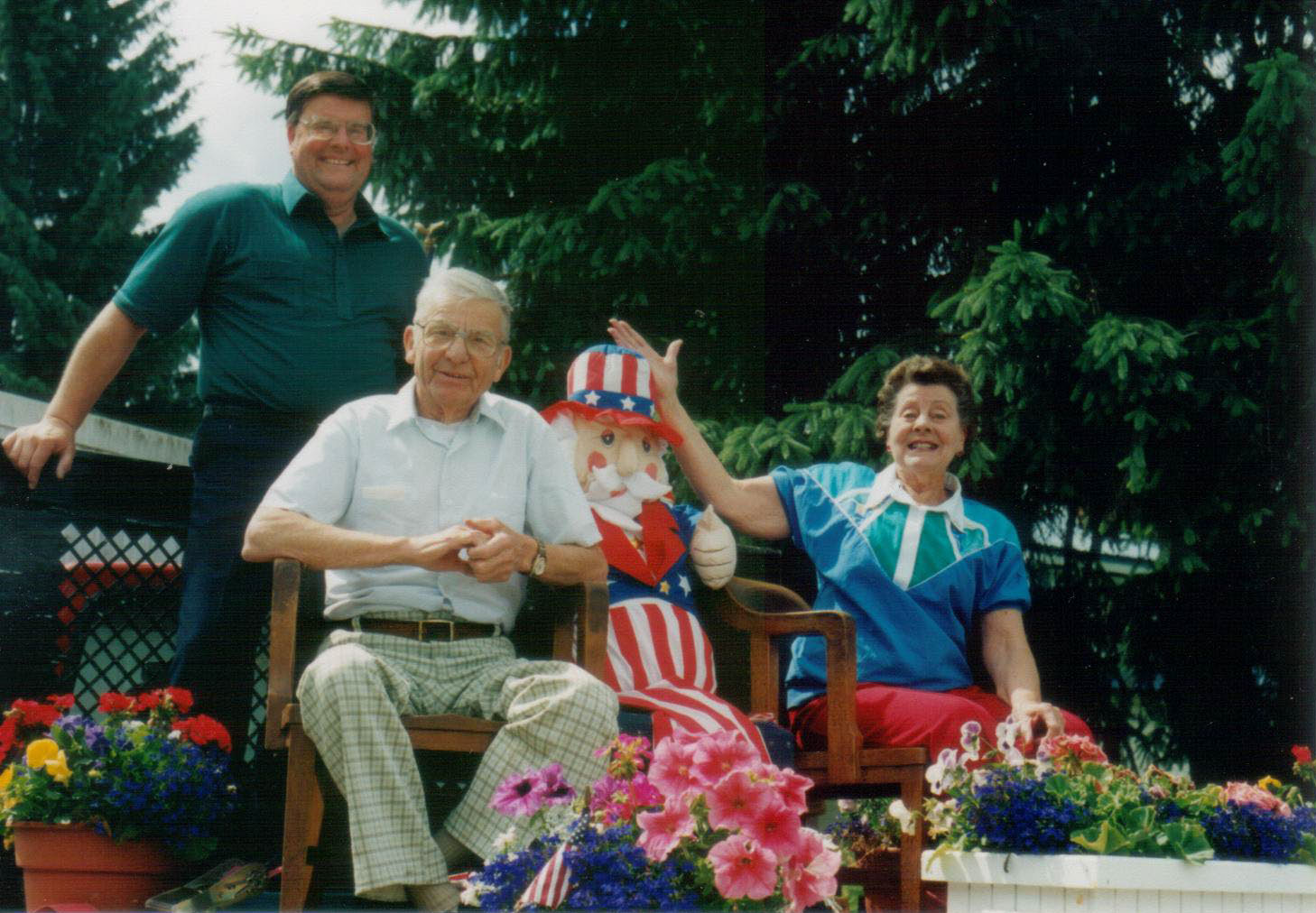 Dan was an exceptional young man, recognized early by teachers and peers as a man that would go far. Dan worked his way through college and then up the corporate ladder at J. Neils Lumber, St. Regis Corporation, and Champion International. Dan was promoted to General Manager of the Champion International Libby facility at forty-five.
Dan accepted leadership at First Montana Bank, becoming Chairman of the Board. He served as State of Montana Ambassador and Transportation Commissioner, director at St. John's Lutheran Hospital, Christ Lutheran Church, and Lincoln County economic development as Port Authority Commissioner.
In 1994 Dan purchased Coffman Motors, changing the business to Larson Lumber Company, Inc. Several months later, Dan met Bonnie at Larson Lumber Company. Bonnie's exceptional financial background complimented Dan's vision. She contributed behind the scenes for several years, officially joining the team in early, 1997. Investing financially during 1999, Bonnie became an owner of Larson Lumber Company, Inc.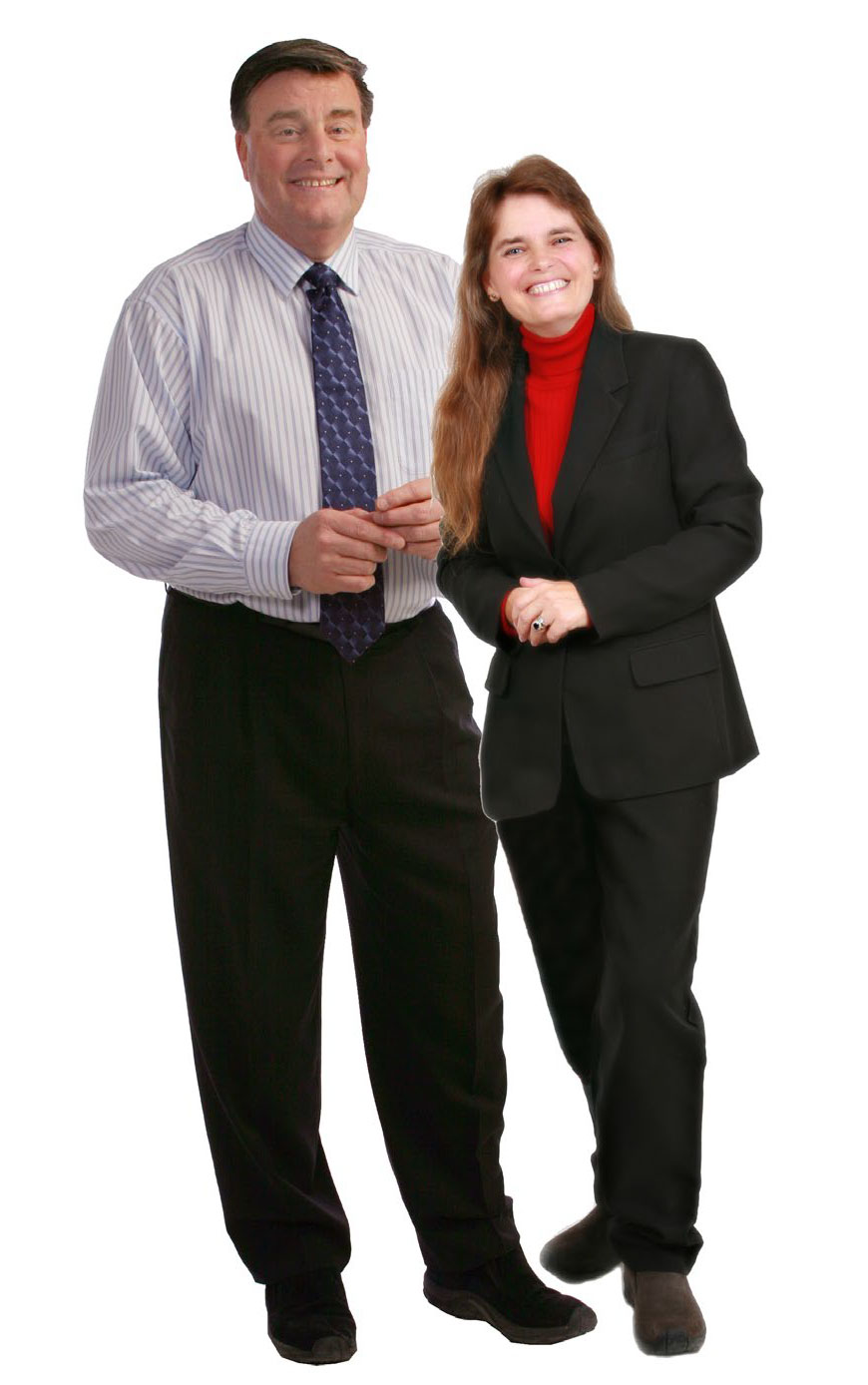 Dan enjoyed mentoring and promoting others to their highest potential– building dreams and making dreams a reality.
Dan developed an exceptional team; Dan grew Larson Lumber Company, Inc. into the largest building material retail yard in northwest Montana.
A lifelong proponent of education, Bonnie completed several college degrees plus ministerial certifications. Bonnie was in the process of enrolling in a two-year Diaconal Ministry program, in January, 2007. In February, 2007, Daniel's serious illness was discovered.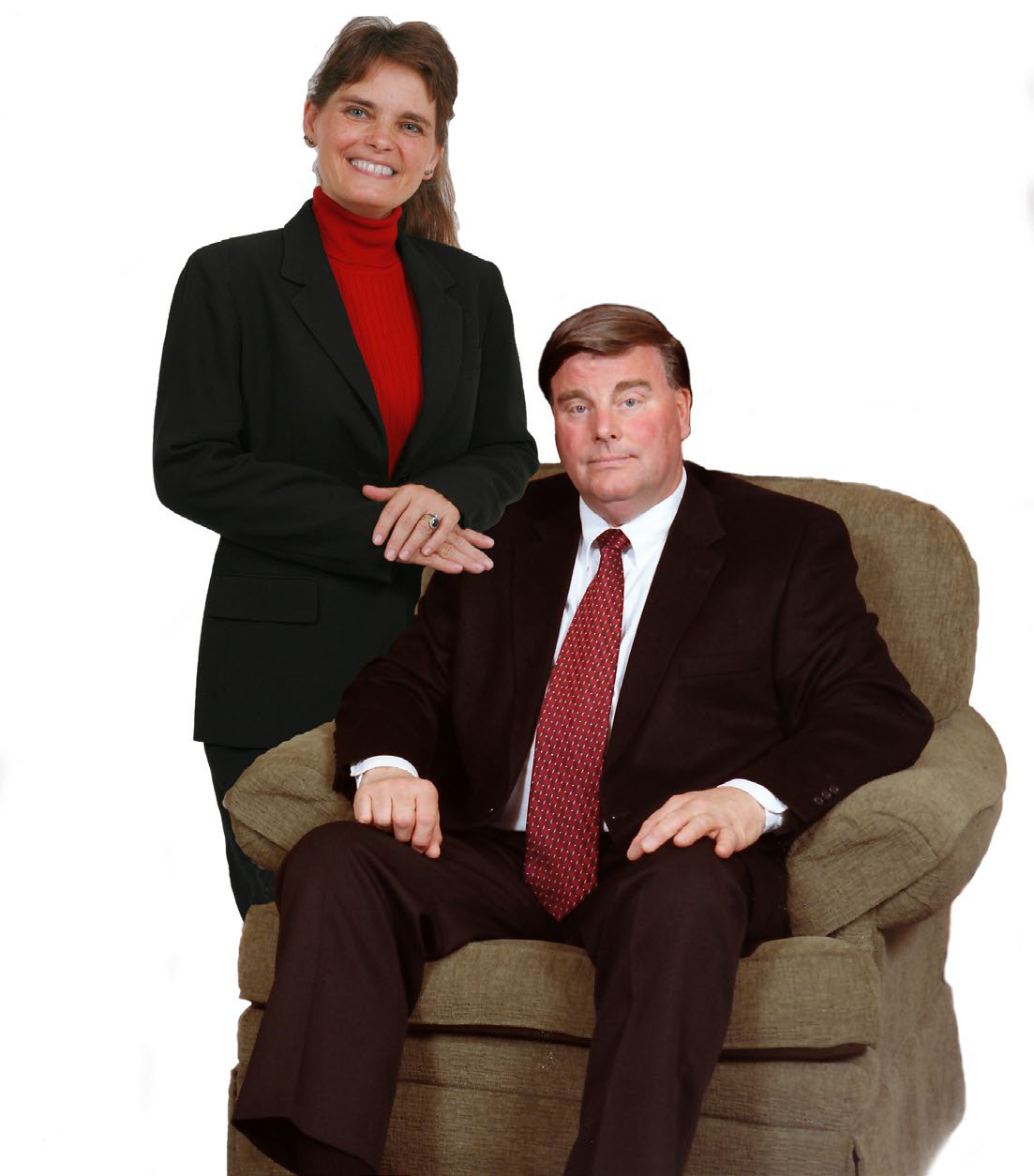 Daniel and Bonnie were married in March, 2007. But, God had a different plan. In the tradition of his SAE fraternity, Dan accepted illness as a gentleman and quietly returned to Our Father on April 7, 2007.
Under the leadership of Bonnie Larson, Larson Lumber Company, Inc. continues to thrive in Troy, Montana. Larson Lumber celebrates more than 100 years of service at Lincoln County – a Larson Centennial Celebration!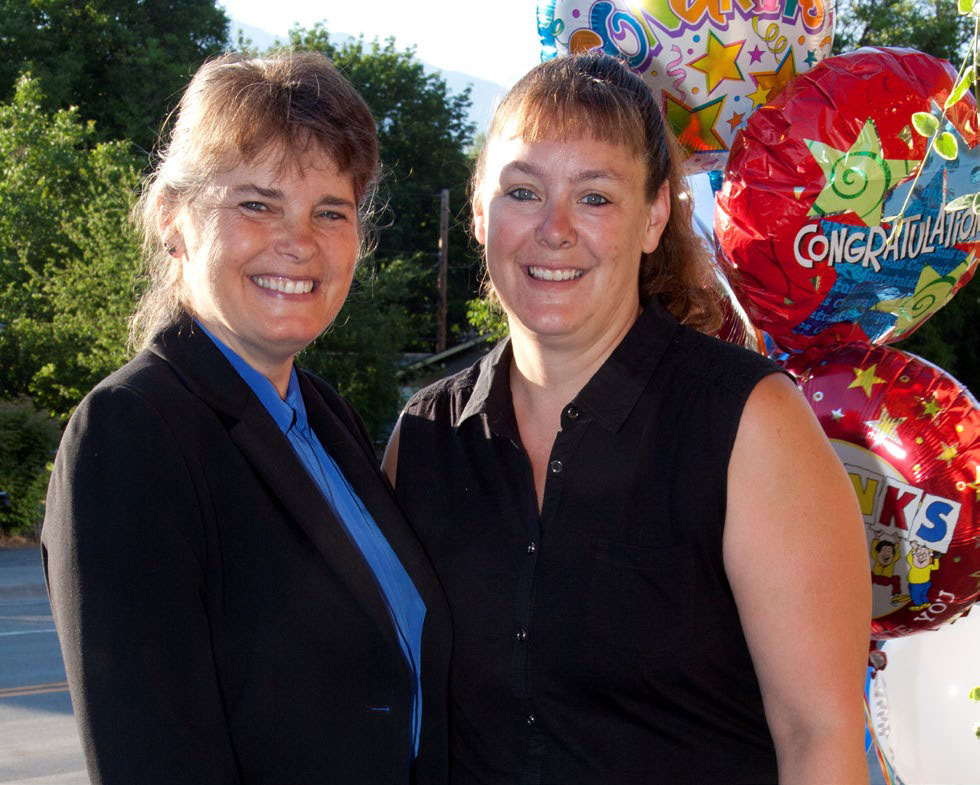 Commemorating this special event, the Larson Centennial Store opened 2015.